Logistics
Plast-Rifey LLC provides services in rail and road transportation of end products to the warehouse of the Consumer. The Zuravliniy Log quarry is the biggest kaolin deposit in Russia.
Rail transportation of kaolin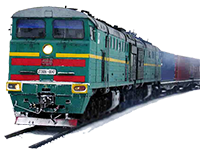 End products are delivered by railway transportation from the Nizhneuvelskaya station (code 804102), South Ural Railways, to different locations on the territory of the Russian Federation and to CIS countries. It is one of the most optimal and profitable ways of delivery, that results in rail transportation becoming the safest and the most widely spread devivery method.
Gondola wagon has room for:
Enriched kaolin (powder) — 72 containers (plastic big bags), net weight 50.4 tons;
Kaolin (briquette) — 68 containers (plastic big bags), net weight 68 tons;
Kaolin and quartz mixture (raw) -shipped in bulk, net weight 66–68 tons.
Advantages of rail transportation
Well-developed network of long distance railroads.
One of the cheapest modes of transport.
Possibility to deliver to the hard-to-access areas.
Vehicle transportation. Kaolin transportation
Plast-Rifey LLC also carries out vehicle transportation of end products throughout Russia and CIS countries.
For the sake of convenience of consumers we carry out express transportation of test samples of kaolin end products (from 1 kg) to the recipient's address by such shipping companies as «Delovye Linii», «KIT», «PEK», «Avtotreyding», «ART-ekspress» and others.
Our key advantage is amiability and consideration towards every consumer!!!